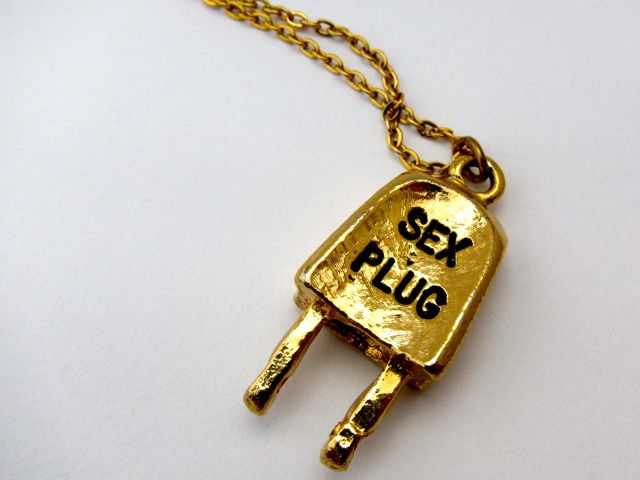 Los Angeles, CA
I discovered the Sex Plug a few months after my mother had died. She left me my childhood house and a giant 3-car garage full of crazy stuff. The Sex Plug was stuck in a tangle of novelty necklaces left over from when my parents owned a gift shop in the early 80s. It was the kind of place that sold greeting cards, tin patina windmills, and other tchotchkes. My earliest memories are of driving to the gift shop every morning with my mom, listening to Chinese pop songs in her beat-up red BMW. My parents later went on to own a Fish 'n Chips shop and an Italian pizzeria, so I frequently find restaurant supplies in our house too.
Earlier this year I started a blog about cleaning out my parents' 35+ years of stuff, and the Sex Plug was one of the best things I've found. It's a thrill to wear it out because it doesn't make any sense– am I suppose to be the sexy thing that goes into an electrical socket? It's a "male" plug so I feel like I'm gender crossing, although I'm not really sure.
I get a kick out of thinking about my parents having to handle the Sex Plug because they were conservative Chinese immigrants, just concerned with making it in this country. I find the Sex Plug a funny metaphor for how out of place they must have felt once they got here.
Raina blogs about what she uncovers in her garage at Infinite Garage Project and is the author of Hit Me With Your Best Shot: The Ultimate Guide to Karaoke Domination.

---