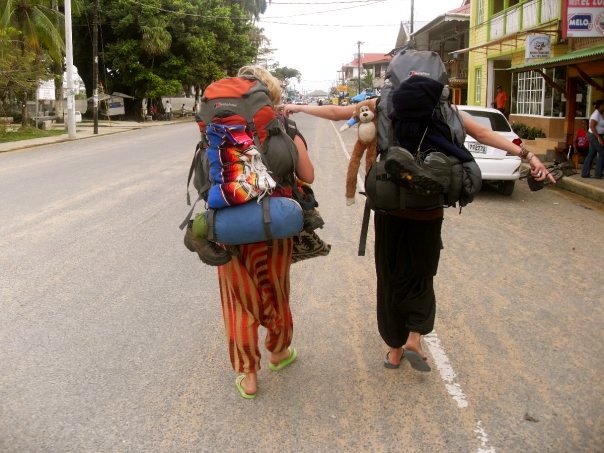 New York, NY
My best friend Chrissy and I were on a nearly deserted beach in Mazunte, in Mexico, when this man comes up and tries to sell us a carpet. I was like, "Poor guy," and I ended up buying this carpet. It was huge – about a yard and a half wide and three yards long. Why would I buy a carpet when I'm backpacking through Central and South America for eight months? But I did. And in every hotel or hostel, we would put the carpet down to make ourselves at home. We would also take our carpet with us on all our adventures. It became the magic carpet. We'd unroll the carpet wherever we were and invite strangers to sit on it and exchange stories.
After Mexico we went to Guatemala where I found a pair of hand woven trousers. I would wear them most days because, since I was traveling, I didn't have many clothes with me. They were soft and the most delicious thing to wear.
We ended up in the hills in San Augustine, in Colombia, a tiny village and one of the most magical places I've ever been. On one particular day, we met Carlos David. He hair was swept back; he was macho and strong but he was also beautiful. Carlos was a horse whisperer, kind of like a guide. He could control horses, even if the people riding them had never ridden a horse before. He could control six horses at a time! We spent the day hiking with him on the hills and we took the carpet with us. That day, he introduced us to his lovely, kind friend, Jose, who was a hunchback with a really big hunch. We invited both of them to sit on the carpet with us and Carlos told us stories about the hillside. And I was wearing my pants. My magic pants with my magical carpet. I practically felt like I was flying because I was so happy. It made me feel like Aladdin.
This magical day was also my friend's birthday party, another reason why it felt so special. Carlos David, Jose and I wound up throwing her a surprise party with some of their local friends. So Jose, with his hunchback, Carlos David who is a horse whisperer, a Colombian man who lived in the forest with a thick beard and another guy wearing a pixie hat all came. And me and my friend. What a night.
During this time I was reading The Hobbit. I found it in a bookshop just before we arrived at that tiny village and it had been years since I read it. So there I was with my magic carpet wearing my Aladdin pants, reading The Hobbit while in the hills of Colombia, meeting these men with beards and hunched backs who lived in the woods and wore pixie hats and communicated with animals.
Originally from Scotland, Jennifer Macgregor-Dennis now lives in New York where she paints and teaches yoga.
---