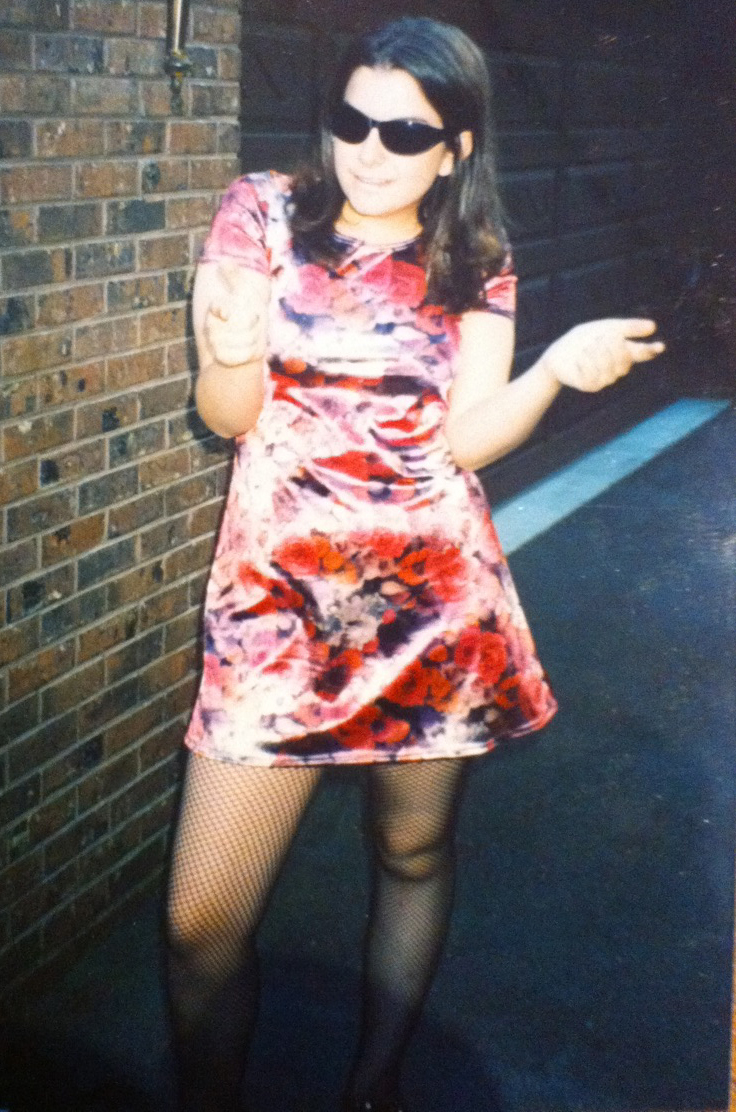 PLEASE note that those were not my sunglasses.  I was making fun of my dad, I think? Also not pictured: my black patent leather Mary Janes and brown teddy bear backpack. SO prom appropriate, no?
I asked my friend Scott to go with me to the junior prom. I was 16 and he was a year older than me. He wore black nerd glasses and was, like, the top indie rocker at my high school. He was just my friend but I think he kind of had a crush on me. We double dated with my best friend who was a guy and he took one of my other best friends who was a girl. I think he was really into her but she had zero interest in him.
I got this dress with my mom at the Betsey Johnson store on Melrose Avenue while we were on a spring break trip to visit my aunt and uncle in L.A. I have a specific memory of trying the dress on in the dressing room and looking at myself in the mirror. I loved it immediately but my mom did that thing where she took a deep breath, which meant she hated it, asked me if I was sure, and then, with a defeated sigh, resigned herself to the fact that I wasn't going to change my mind.
It was around this time in the mid-90s when I was dressing kind of tomboyish, like a skate betty. I was going through a phase of lots of tiny ringer tees, Etnies sneakers and the same pair of disgusting frayed men's thrift store corduroys that I'd wear everyday like, Whut? These are cool. So I think my mom was relieved – like, well, at least she's wearing a dress and one that's from a nice store instead of the thrift stores where I'd been shopping since my freshman year.
It was a pretty good night. I don't remember much about the prom itself except that we took a limo there. And then right after the prom, we took that limo from Franklin Lakes, New Jersey, where I grew up, into New York City to see the Magnetic Fields play at a venue that doesn't exist anymore. I couldn't drive yet so it was like, whateva, let's take a limo into the City. Mary Lou Lord opened for the Magnetic Fields and I wound up talking to her by the bathroom and freaking out because she was my favorite singer at the time. I couldn't believe how tiny she was. She was shorter than me, which I didn't think was possible. A pocket-sized treasure.
My parents were at a wedding that night so I got to stay out pretty late – later than I usually would have been able to because my parents weren't really keeping track. Those were the days of no cell phones. Anytime I went into the City, I basically had to take ninety pounds of quarters so I could find a payphone and call to say, I'm here! We're fine! I'll be home later! It was an awesome time because you could half get away with more but you were always beholden to check in more frequently.
But on that particular night I remember having this awesome sense of complete freedom because my parents weren't around. It was like, Who cares? Do it!
Elizabeth Spiridakis, who was named the Best New York Fashion Blogger in 2010 by the Village Voice, is the author behind the Feels Like White Lightning blog. Her work has appeared in The New York Times, Pop, Teen Vogue, and Street Carnage.
---